Features Overview
Introducing The Answers4College Blueprint™
A CRM that manages the entire family
Collect and store all the academics for each student and financial data for everyone in the family.
EFC down to the penny
Using the latest formula data provided by the Federal government.
What-if scenarios
Develop custom scenarios and easily compare the impact of your suggested planning strategies.
College search and comparison
Side-by-side comparisons of academic and financial statistics of up to four (4) colleges at a time.
Lookup scholarships, 529s, and majors
Look up and suggest scholarships, compare different 529 plans, and quickly grab info on available majors.
INTRODUCING THE Answers4College Blueprint™
Software That

COMPARES|ANALYZES|MANAGES|TRACKS
Software built for college planning that manages the entire family.
There are plenty of CRM platforms that can handle your financial clients, but with college planning, you need to manage the students as well. The Answers4College Blueprint™ manages the family collectively as a case.
Financials & Academics
Store all the academics for each student and financial data for everyone in the family.
Revenue Opportunities
Track all revenue opportunities for each product or service you can offer the family.
Cloud Storage
Store important files like tax returns, account statements, and award letters.
Keep Track
Log all your activities like emails, phone calls, notes, meetings, even text messages.
EFC Down to the Penny
EFC Calculator
Quickly calculate your client's expected family contribution for both the FM (FAFSA) and IM (PROFILE) college formulas. We use the latest formula data provided by the Federal government as it gets updated each school year.
What-If Scenarios
Before & After
Create and save an unlimited number of "what-if" strategy scenarios for your prospects and clients. Demonstrate strategy changes in income and assets and quickly compare the impact of your suggested adjustments in a "before" and "after" format. Presenting the total dollar value effect of your strategy savings over the period from college to retirement gives prospects and clients an accurate picture of the value of hiring you to guide them through the process.
College Search and Comparison
Simultaneous side-by-side comparison of the academic and financial statistics of up to four (4) colleges at a time.
Drill down the details on each individual college; including the expected annual cost of each college (regardless of the student's year in high school), the net cost after expected gift aid, average graduation rates, expected total cost at graduation, expected student (Stafford) and parent (PLUS) loan debt analysis, and the academic statistics of each school and the student's probability of admissions and opportunities at each school. Dramatically improving the student and parent's ability to make sound admissions and financial decisions.
"College" Financial Planning Strategies
Hundreds of "College" financial planning strategies at your fingertips
Hundreds of Financial Aid, Tax Savings, Lending, Cash Flow, Income and Expense, and Investment Management strategies that can potentially save your client tens-of-thousands of dollars on their children's college education.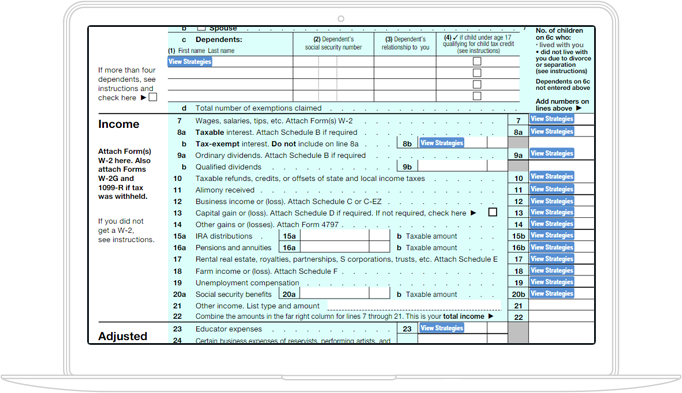 FAFSA Data and Answers Key
FAFSA answers key in PDF format
Collect and store important FAFSA data and generate and easy to use answer key so your parents can complete the online FAFSA financial aid application.
Sample FAFSA answers
Search Private Scholarships
Over 9,000 private scholarships offered by companies, private institutions, and foundations in the U.S
Search for scholarships and get instant results. Discover WHAT types of scholarships are out there and WHERE & WHEN students should apply?
Search 529 Plans
Instantly search every 529 plan offered in the U.S., by state and by financial institution.
Then compare up to four separate 529 plans side-by-side to analyze the best option for your client.
Sample 529 Plans
Scenario Summary
The pertinent financial data you need for client meetings.
Generate a detailed college financial analysis report so that you can walk your client through the college financial process step-by-step. Show your client the effect the cost of college will have on their retirement fund and how your cost cutting strategies can recoup much of those costs.
Sample of Summary
Schedule an
Appointment
In less than 30 minutes you will learn everything you need to know about becoming a CCFS® (Certified College Funding Specialist®).
You will be walked through a tour of Members Area of our website and provided a demonstration of the Answers4College Blueprint™ - College Planning Software.
Appointment