UNDERSTANDING "PREFERENTIAL PACKAGING" AND HOW COLLEGES USE IT TO RECRUIT STUDENTS
March 2, 2018
Blog
financial aid, award letters, packaging, preferential packaging
Ron Them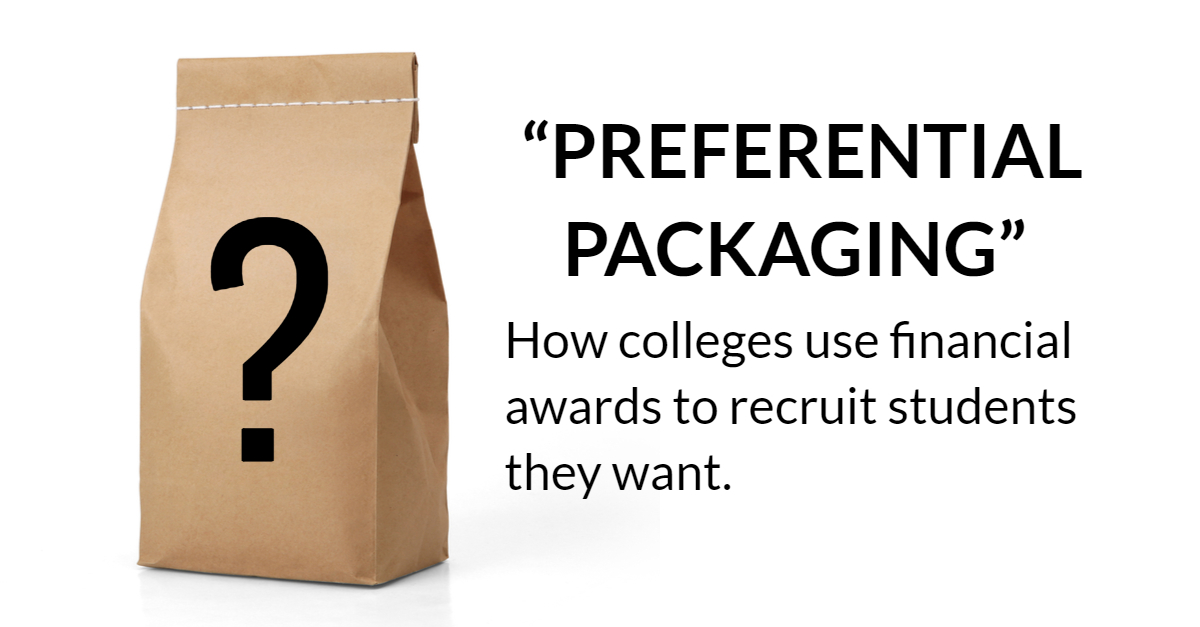 College costs have escalated beyond the reach of many families today.  While the cost of in-state public universities hovers around $30,000 a year, private school costs have now reached the $70,000 mark. As a result, many of these private colleges now use financial aid as a recruiting tool for students that fit the school's profile. This phenomenon is called "preferential packaging."
Preferential packaging merely means that colleges will offer the most advantageous financial aid packages to recruit students to their school. Private colleges use this procedure because they must compete with state universities on price.
This preferential packaging procedure is straightforward. The student that the school most wants to recruit will receive the maximum amount of grants and scholarships, and the minimum amount of student loans. Usually the upper 25% of the student class. The balance of the admitted students will most likely receive a package consisting of loans, including parent PLUS loans.
Furthermore, the college may not even meet the student's need in full. This procedure is called "gapping," meaning that the student will receive a limited financial aid package. Even worse, some students may go on a waitlist and are only offered that limited financial aid package if they replace students that decide to attend another college.
WHAT THIS MEANS TO YOUR FAMILY
If money is a factor in your student's college search and it will impact your final choice, you should be sure to apply to colleges where you are clearly in the top 25% of the applicant pool. Otherwise, you will surely be offered that "limited financial aid package."
Colleges are increasingly reluctant to part with their money to enroll students who do not raise their academic profile. The world of preferential packaging may not seem fair, but it's the system almost every private college uses today for admissions.  
THE GOOD NEWS
As colleges work to shape their freshman classes and enroll students who represent the college's profile, highlighting the student's unique niche is an excellent thing to do. If you can figure out how the student fits into the college's "community" in a unique way, let the college know it. If the student's grades and test scores are not in the top 25% of the schools recruiting profile, then highlight extracurricular activities, unique talents, and community service.
IT'S YOUR CHOICE
If a private college goes out of its way with money to enroll a particular student, there must be a good reason. If a particular private college really wants the student, they will find a way to make it financially beneficial to attend. Almost to the point where the private school's cost is less than a state university.
Preferential packaging is a game that private colleges play… period. Figuring out how to best promote the student and then use that to negotiate money from colleges is what we do as Certified College Funding Specialists. Even if a parent can write a check for the entire cost of college, why should they when they didn't have to.
There are no right answers, only choices. A Certified College Funding Specialist can help. To hire a CCFS® in your area visit www.hireaccfs.com .


He is a former Chief Financial Officer of a Fortune 500 company and currently owns his own financial advisory company specializing in cash flow planning for business owners and executives. He developed the Cash Flow Recovery™ process that uses cash flow management principals to increase asset value and build wealth for business owners.

He is also the originator of several software calculators to help advisors and families make college affordable, including:

* College QuikPlan EFC Calculator
* "Find the Money" College Cash Flow Calculator
* College Debt Reduction Calculator

Ron has been quoted in U.S. News and World Report, Kiplinger's Personal Finance, Smart Money, Financial Advisor Magazine, Small Firm Profit Report, Practical Accountant, LIMRA's Market Facts, Senior Advisors Magazine, HR Magazine, BenefitNews.com, Employee Benefit News Magazine, ProducersWeb.com, Entrepreneur Magazine, Insurance Selling Magazine, CollegeNews.com, The Christian Voice, and Columbus CEO Magazine.
For over 30 years, the nation's leading financial advisors, broker/dealers, and major media outlets have been using his research, funding strategies, training, and insight. Ron is highly regarded as an expert in the college funding field.