Simple EFC Calculator to Grab Clients
September 21, 2017
Blog
efc, calculator, clients
Ron Them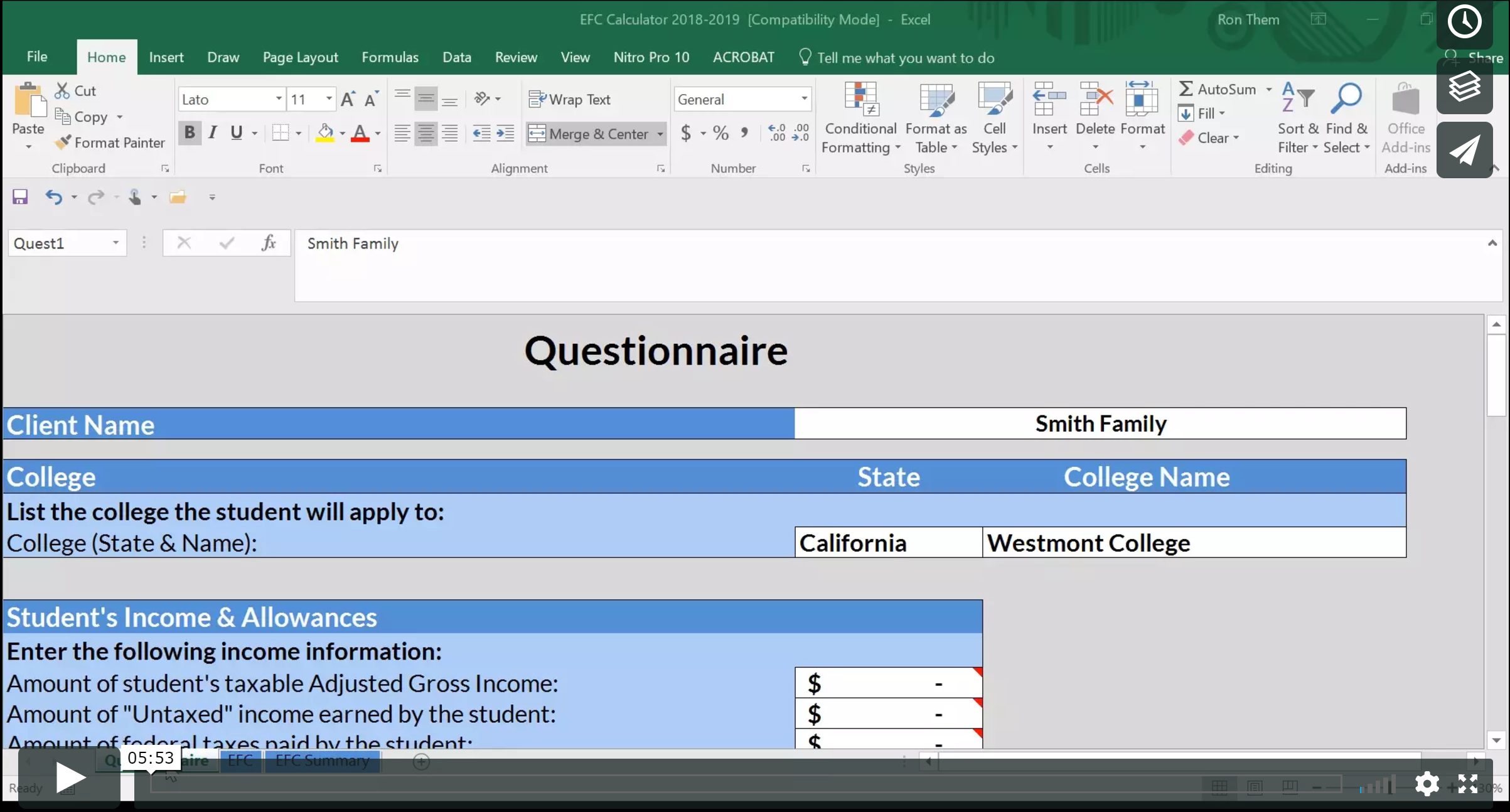 Well, school is back in session which means that I have a lot of advisors contacting me about helping their clients and prospective clients with EFC calculations in preparation for filling out the FAFSA next month.
While our members have access to Answers4College Blueprint software there are still a few CCFS members that do not want to start a full case in the A4C Blueprint and just want to keep it simple. If you are one of those types of guys, then our simple EFC calculator is perfect for the task.
This simple EFC calculator is built in Microsoft Excel and all the data is kept current. Most advisors use this to estimate EFC and send a little one-page printout from the calculator that they can send to their prospects and clients so that they want to come into their office and further the college funding discussions. I made a video explaining the calculator and how to use. You can watch the video below. If you are an active CCFS® the Excel file and the instructions are in our  Learning Library and you can access them here.


He is a former Chief Financial Officer of a Fortune 500 company and currently owns his own financial advisory company specializing in cash flow planning for business owners and executives. He developed the Cash Flow Recovery™ process that uses cash flow management principals to increase asset value and build wealth for business owners.

He is also the originator of several software calculators to help advisors and families make college affordable, including:

* College QuikPlan EFC Calculator
* "Find the Money" College Cash Flow Calculator
* College Debt Reduction Calculator

Ron has been quoted in U.S. News and World Report, Kiplinger's Personal Finance, Smart Money, Financial Advisor Magazine, Small Firm Profit Report, Practical Accountant, LIMRA's Market Facts, Senior Advisors Magazine, HR Magazine, BenefitNews.com, Employee Benefit News Magazine, ProducersWeb.com, Entrepreneur Magazine, Insurance Selling Magazine, CollegeNews.com, The Christian Voice, and Columbus CEO Magazine.
For over 30 years, the nation's leading financial advisors, broker/dealers, and major media outlets have been using his research, funding strategies, training, and insight. Ron is highly regarded as an expert in the college funding field.