NEW FEDERAL STUDENT AID (FSA) MOBILE APP
October 2, 2018
Blog
fsa, student aid, technology
U.S. Dept of Education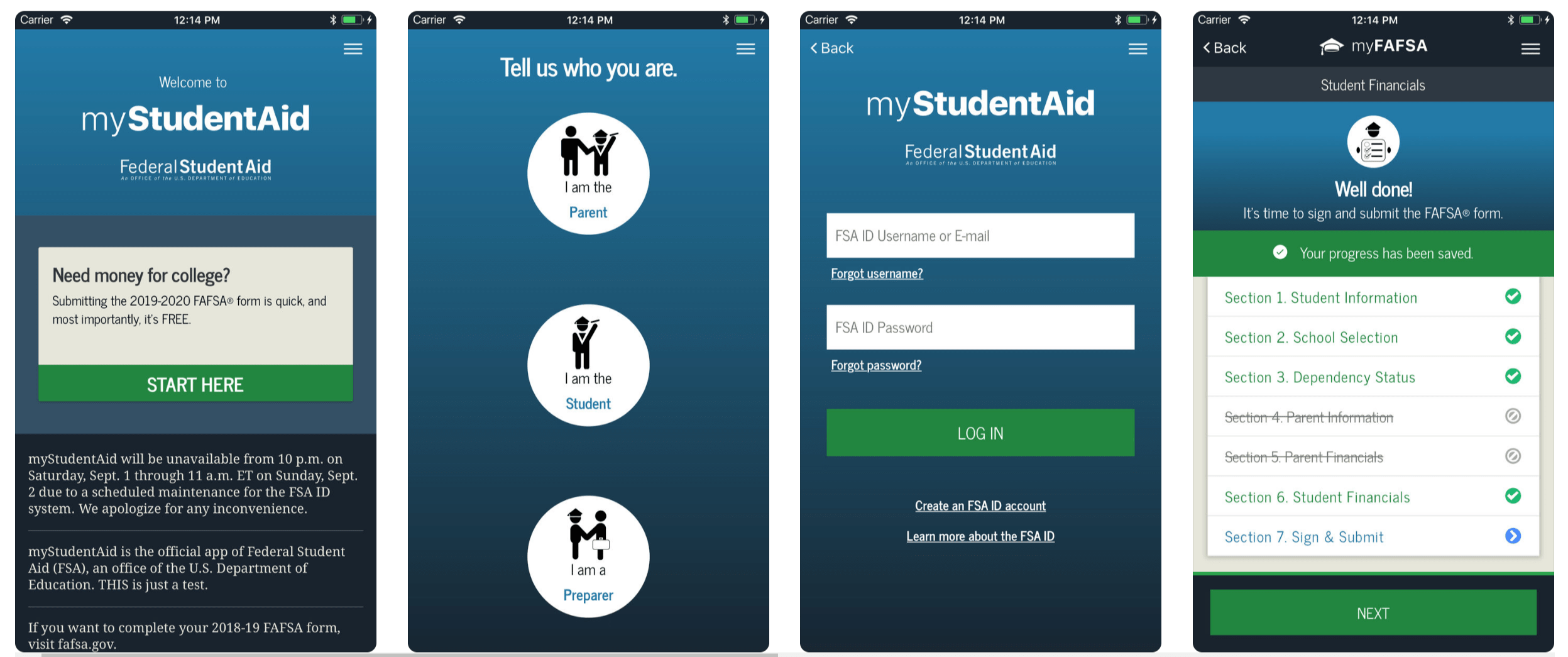 As part of its continued efforts to modernize and improve the quality of services provided by Federal Student Aid (FSA), the U.S. Department of Education this week launched its first-ever mobile application. The myStudentAid app will allow students and parents to easily and securely complete the 2019–20 Free Application for Federal Student Aid (FAFSA®) using the app's myFAFSA component.
"The future of the FAFSA is here," said Education Secretary Betsy DeVos." "Now, students and their families have federal student aid tools in the palm of their hand, which will help them achieve their higher education goals, learn more about the schools to which they are applying, and gain greater access to important information about their financial future. Many said this wasn't possible, but we refuse to let anything limit us from doing what's best for students."
The mobile app is available for iOS and Android devices and allows students and parents to begin, complete, and submit a new or renewal FAFSA for the 2019–20 FAFSA processing cycle. Through a customized experience based on their role—student, parent, or preparer—app users receive guidance on how to complete the FAFSA, making the overall process more positive, engaging, and user-friendly.
The first application was received from New York at 1:06 a.m., six minutes into the new processing year.
The app provides several useful and time-saving features. Students can use the app's myCollegeScorecard feature to easily view and compare additional information about the schools they selected on their FAFSA. Eligible students and parents may use the IRS Data Retrieval Tool (IRS DRT) to electronically transfer federal tax return information into their FAFSA form. Plus, eligible students and families in certain states can transfer their FAFSA information into their state aid application. Participating states include Iowa, Minnesota, Mississippi, New Jersey, New York, Pennsylvania, and Vermont.
In addition to being able to fill out the FAFSA, the myStudentAid mobile app will help students and parents
manage their username and password (FSA ID) through the Profile feature;
view federal student aid history using the myFederalLoans option;
get in touch with Federal Student Aid contact centers to have questions answered; and
access StudentAid.gov, Federal Student Aid's key source of information about the federal student aid programs, application process, and loan repayment options.
The mobile app also provides the same data protections as filling out the FAFSA on fafsa.gov. In an effort to provide a more mobile-friendly user experience, the fafsa.gov site was refreshed this summer with a new look and feel and also was redesigned so that pages fit the screen size and shape of any device, including desktop or laptop computers and smartphones and tablets. 
The app is the first public-facing step in the implementation of the Next Generation Financial Services Environment (NextGen), which will create an improved, world-class customer experience for FSA's millions of customers, while creating a more agile, flexible operating model that will streamline FSA's operations.