NEW COLLEGE ADMISSIONS CHANGES OPEN THE DOOR FOR FINANCIAL ADVISORS TO HELP MIDDLE & UPPER-INCOME FAMILIES NEGOTIATE PRICE REDUCTIONS FROM COLLEGES
October 9, 2019
Blog
college costs, college tuition costs, negotiate
Ron Them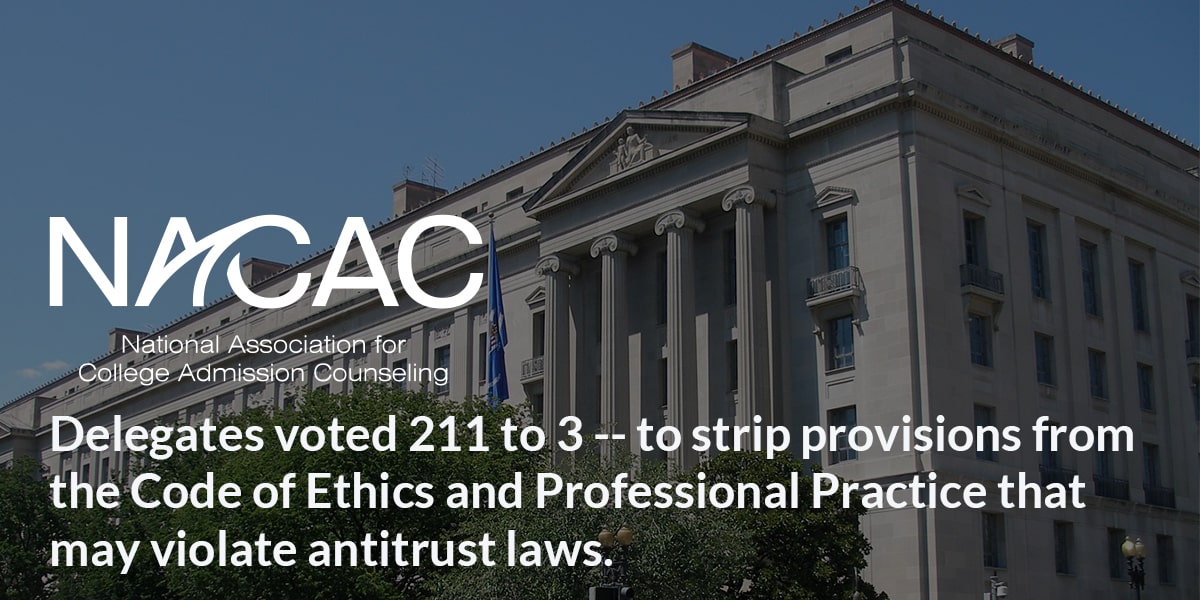 This newly adopted free-market change puts financial advisors in the driver's seat with middle and upper-income clients by showing them how to barter with colleges for pricing incentives!
Here is a common excuse I hear from financial advisors regarding college... 
"Ron, I love the idea of college planning and helping people with their finances, but most college-bound families usually don't have any money to invest.  And high-income investment prospects know they won't qualify for financial aid and assume they will have to pay full price for college."
Now middle and upper-income investment clients who would usually pay full-price for college will think you're a genius when you show them how to negotiate $5,000-$10,000 a year off their cost!
Have you heard about the latest announcement from the National Association for College Admission Counseling (NACAC)? It's a big step in lowering the price of college. The college admissions giant wanted to avoid an antitrust suit from the Department of Justice. As a result, the NACAC board voted to remove provisions from their Code of Ethics that allowed colleges to control their pricing using adverse admissions practices. 
You can read the full details here: https://www.insidehighered.com/admissions/article/2019/09/30/nacac-agrees-change-its-code-ethics
Colleges are now free to:
Offer special incentives to students (special housing, enhanced financial aid packages, and special scholarships), regardless of whether the student is admitted under another college's early decision plan,

Continue to recruit students away from other colleges after the May 1st deadline, even if the students have already submitted their deposit to another college, and, 

Solicit transfer applications from a previous year's applicant or prospect pool, even if the students did NOT request to transfer.
Every financial advisor can now capture new clients by merely showing families how to NEGOTIATE price reductions from colleges!
The bottom line is colleges can now "poach" good students from other colleges ANYTIME using "money incentives". Financial advisors can clean house showing new investment clients how to get these money incentives from colleges.
This new change creates a free market for colleges to lure good students away from other colleges at any time by only offering more money. This will create tremendous price competition between colleges. In other words, college recruiting just got more competitive!
College academic recruiting will begin to mirror college athletic recruiting - in other words - show me the money!
This will change the scope of college planning forever! Now there is no excuse not to add college funding to your practice. When high-income investment clients discover that there is a financial professional in their area that can show them how to get price reductions from colleges; they will be contacting YOU to complete a college pricing plan. You can charge a fee for this negotiating help (anywhere from $500 -$1,500 and up depending on the work involved and whether you link a retirement plan to your college plan).
These new regulations create an opportunity of a lifetime for financial advisors!
Most state schools are priced at $35,000 and up. Private college prices range from $50,000 to almost $80,000. It's not that high-income investment clients cannot afford to pay that full price, THEY JUST DON'T WANT TO! 
As a Certified College Funding Specialists (CCFS®), you will be trained in appealing college financial award letters and showing families how to negotiate the price of college. The only difference is now high net-worth families are in the driver's seat for these price incentives because they have the money to pay the balance of the tuition bill. 
If you are not using "college" in your current investment practice, you should be. The result of this change by NACAC is an opportunity of a lifetime for financial advisors.  I encourage you to learn more about becoming a Certified College Funding Specialist® and help these families take advantage of the changing landscape in college planning.


He is a former Chief Financial Officer of a Fortune 500 company and currently owns his own financial advisory company specializing in cash flow planning for business owners and executives. He developed the Cash Flow Recovery™ process that uses cash flow management principals to increase asset value and build wealth for business owners.

He is also the originator of several software calculators to help advisors and families make college affordable, including:

* College QuikPlan EFC Calculator
* "Find the Money" College Cash Flow Calculator
* College Debt Reduction Calculator

Ron has been quoted in U.S. News and World Report, Kiplinger's Personal Finance, Smart Money, Financial Advisor Magazine, Small Firm Profit Report, Practical Accountant, LIMRA's Market Facts, Senior Advisors Magazine, HR Magazine, BenefitNews.com, Employee Benefit News Magazine, ProducersWeb.com, Entrepreneur Magazine, Insurance Selling Magazine, CollegeNews.com, The Christian Voice, and Columbus CEO Magazine.
For over 30 years, the nation's leading financial advisors, broker/dealers, and major media outlets have been using his research, funding strategies, training, and insight. Ron is highly regarded as an expert in the college funding field.