JOIN ME IN LAS VEGAS AT 2018 HOW TO GET… THE "HARD TO GET" - A TACTICAL SYMPOSIUM FOR FINANCIAL PROFESSIONALS, ESTATE PLANNERS, & CPAs
February 27, 2018
Blog
seminars, events, symposium, h2gth2g
Ron Them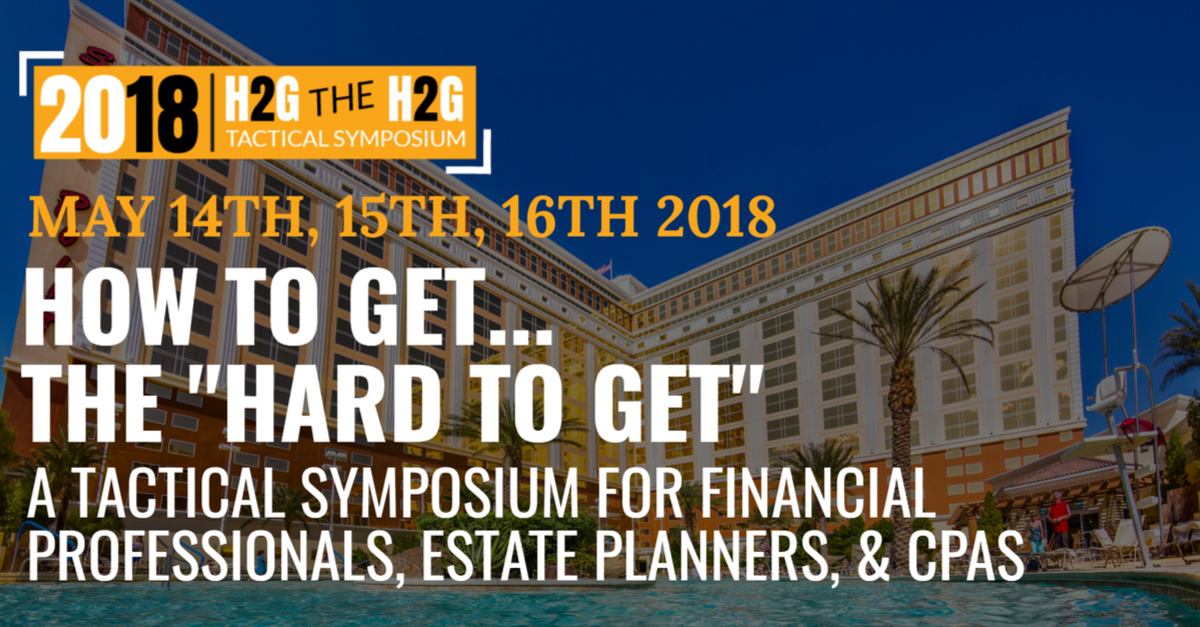 I have been asked a few times over the last couple of years to put on another Las Vegas college funding event as I have done so many times before. I have purposely pushed back on the 1-2 day live "college" only events, because quite honestly when it comes to "college" there isn't that much to talk about that couldn't be done online. Also, I don't think it is right making up excuses to cancel a live event and replace it with an online webinar when there aren't enough registrations or interest. 
I figured that those of you in college funding already know the rules and regs, and since they don't change that much year-to-year, you would instead like to learn how to use "college" to attract high income, high net worth clients to double, triple, or even quadruple your income.
That is why I'm letting you know about a one-of-a-kind event I'm participating in and speaking at that has way more value than a "college only" event.
MAY 14TH, 15TH, AND 16TH AT THE SOUTH POINT HOTEL & CASINO IN LAS VEGAS, NEVADA
There will be no talks covering the same old regurgitated case studies filled with financial aid or "hire your kid" type tax strategies. I have covered those enough over the last 25 years.
Instead, I will be talking about how college can be used to attract and convert "hard to get" clients. You know the clients I am talking about. High net worth individuals and business owners that already have their financial advisors, and if they don't, they have a sphere of influence who can refer advisors to them. Wait until you see my latest approach on this, it has been generating enormous success for advisors across the country.
THIS EVENT HAS GREAT VALUE & GOES WELL BEYOND COLLEGE
Another reason I am excited about this event is that it goes well beyond college. The rest of the speakers are some of the nation's best estate planning attorneys, CPAs, RIAs, and Wealth Advisors and in each session, at this event, you will be taught progressive concepts and tactical strategies that you can use to approach these desirable "hard to get" clients.
Let's face it, when you lose a client to another advisor, it's usually because that competing advisor came up with a better concept (at least in the prospect/client's mind). At this event, you will learn a bunch of ideas that you can immediately use to go after those desirable "hard to get" clients.
HERE ARE THE TOPICS OF THE SESSIONS SO FAR:
EVENT SCHEDULE FEATURED SPEAKERS BUY TICKET (promo code ccfs75)
I think it would greatly benefit you to attend 2018 HOW TO GET… THE "HARD TO GET" - A TACTICAL SYMPOSIUM FOR FINANCIAL PROFESSIONALS, ESTATE PLANNERS, & CPAs, and since I am a speaker for the event, I'm able to provide our members with a severe discount.
CCFS® MEMBERS RECEIVE 75% OFF WHICH MAKES IT ONLY $98.75 TO ATTEND
The "Early Bird" price of the event is only $395 ($695 after March 31st) and includes all event access as well as breakfast, lunch, and happy hour.
But if you are a CCFS® or personal invite of mine, you won't have to pay even the "Early Bird" price. Below is an exclusive coupon code for 75% off! That's right. As long as you register before March 31st, you can attend this entire event for only $98.75!
All you will need to cover is your travel and hotel. The South Point room rate is only $60 a night (while supply lasts).
This event will sell out, so if you have an interest, please register and book your room right away.  I am not managing this event directly and WILL NOT be able to accommodate last minute requests.
I hope you can make it. I promise you it will be the best money you've spent on your financial practice in a long time! Plus there will plenty of time to have breakout sessions with you. 
Copy this promo code

ccfs75

 then click on the button below.
REGISTER NOW FOR 2018 H2GTH2G TACTICAL SYMPOSIUM!


He is a former Chief Financial Officer of a Fortune 500 company and currently owns his own financial advisory company specializing in cash flow planning for business owners and executives. He developed the Cash Flow Recovery™ process that uses cash flow management principals to increase asset value and build wealth for business owners.

He is also the originator of several software calculators to help advisors and families make college affordable, including:

* College QuikPlan EFC Calculator
* "Find the Money" College Cash Flow Calculator
* College Debt Reduction Calculator

Ron has been quoted in U.S. News and World Report, Kiplinger's Personal Finance, Smart Money, Financial Advisor Magazine, Small Firm Profit Report, Practical Accountant, LIMRA's Market Facts, Senior Advisors Magazine, HR Magazine, BenefitNews.com, Employee Benefit News Magazine, ProducersWeb.com, Entrepreneur Magazine, Insurance Selling Magazine, CollegeNews.com, The Christian Voice, and Columbus CEO Magazine.
For over 20 years, the nation's leading financial advisors, broker/dealers, and major media outlets have been using his research, funding strategies, training, and insight. Ron is highly regarded as an expert in the college funding field.