GOOD NEWS FOR STUDENT LOAN BORROWERS: IMPORTANT CHANGES JUST ANNOUNCED TO THE INCOME-DRIVEN REPAYMENT AND PUBLIC SERVICE LOAN FORGIVENESS PROGRAMS - YOU CAN SAVE YOUR CLIENTS THOUSANDS
April 20, 2023
Blog
student loans, dept of education, plus loans, education loans, loan forgiveness
Ron Them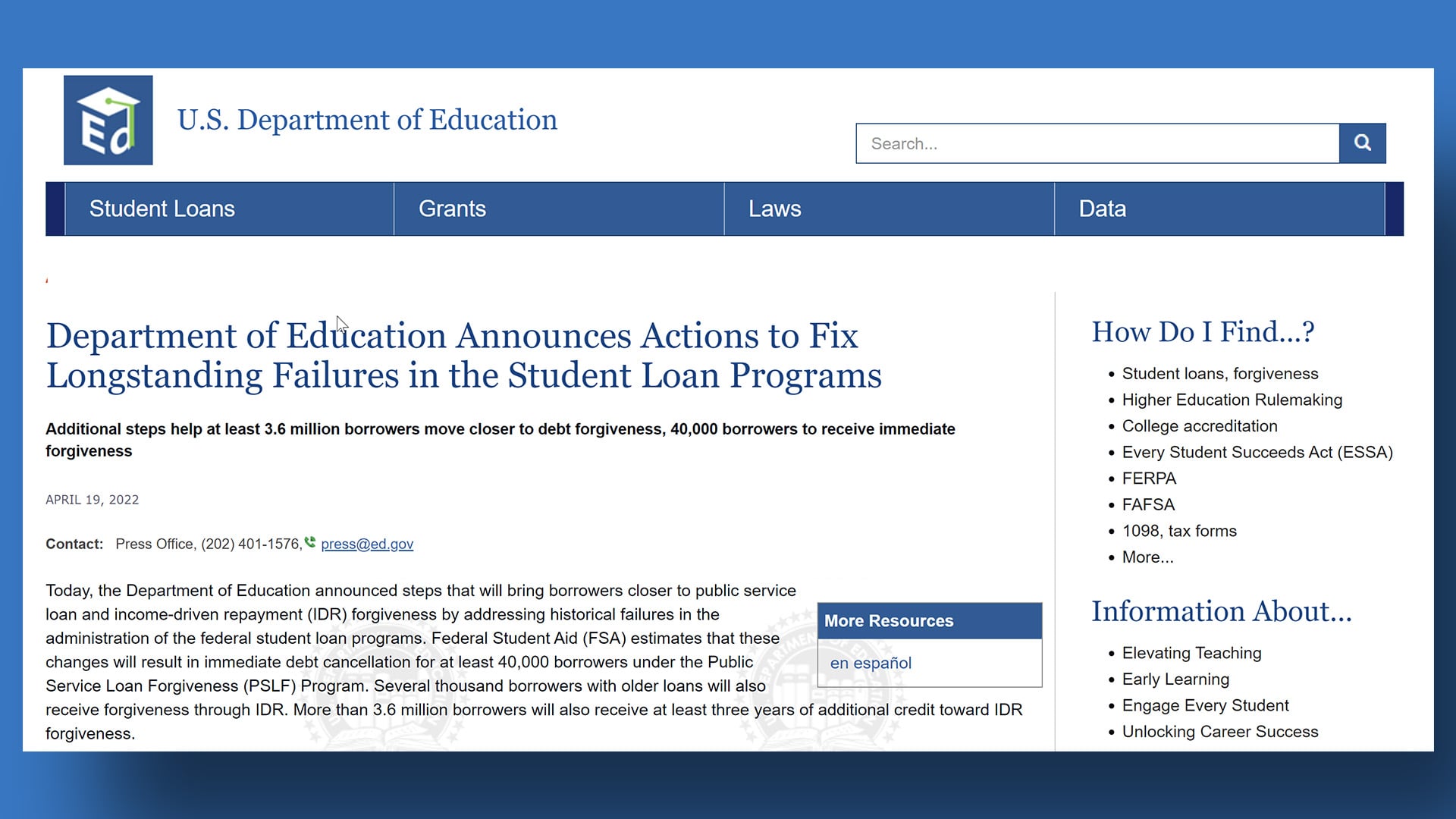 Department of Education Announces Actions to Fix Longstanding Failures in the Student Loan Programs
I'm excited to share some crucial information that can greatly benefit your clients. The U.S. Department of Education (ED) has announced payment count adjustments for Income-Driven Repayment (IDR) and Public Service Loan Forgiveness (PSLF) programs. This means that over 3.6 million Direct Loan Program borrowers will receive at least three years of credit towards loan forgiveness, and many will have their loans automatically forgiven.
This information will be relevant to your clients if they are:
On an IDR plan or have been on one in the past;

In the PSLF program;

Not on an IDR plan but are interested and have Direct or Federal Family Education Loan (FFEL) Program loans held by the ED.

The improvements include a one-time adjustment that will change how certain payments or months are credited towards loan forgiveness. This adjustment will have different outcomes for eligible borrowers, such as moving them closer to the end of their repayment period, automatically receiving loan forgiveness, or receiving a refund for any overpayment.
The ED will review all borrower accounts and make necessary updates to their accounts. Borrowers will be contacted if they become eligible for IDR forgiveness due to the one-time review. The ED will also conduct a one-time adjustment of IDR-qualifying payments for all Direct Loans and federally-owned FFEL Program loans. This adjustment will count time towards IDR forgiveness under various circumstances.
Borrowers with commercially managed FFEL, Perkins, or Health Education Assistance Loan (HEAL) Program loans should apply for a Direct Consolidation Loan by the end of 2023 to get the full benefits of the one-time account adjustment. In most cases, if borrowers made qualifying payments that exceed the applicable forgiveness period (20 or 25 years), they will receive a refund for their overpayment.
These changes will also affect PSLF applicants, as all periods credited towards IDR will also be credited towards PSLF for eligible loans and periods where the borrower certifies public service employment.
Read the full announcement from Federal Student Aid
To read the full announcement, please click here. Be sure to read the FAQs at the end of the article so you can provide answers to your clients.
You should  also read the Education Department's press release here.


He is a former Chief Financial Officer of a Fortune 500 company and currently owns his own financial advisory company specializing in cash flow planning for business owners and executives. He developed the Cash Flow Recovery™ process that uses cash flow management principals to increase asset value and build wealth for business owners.

He is also the originator of several software calculators to help advisors and families make college affordable, including:

* College QuikPlan EFC Calculator
* "Find the Money" College Cash Flow Calculator
* College Debt Reduction Calculator

Ron has been quoted in U.S. News and World Report, Kiplinger's Personal Finance, Smart Money, Financial Advisor Magazine, Small Firm Profit Report, Practical Accountant, LIMRA's Market Facts, Senior Advisors Magazine, HR Magazine, BenefitNews.com, Employee Benefit News Magazine, ProducersWeb.com, Entrepreneur Magazine, Insurance Selling Magazine, CollegeNews.com, The Christian Voice, and Columbus CEO Magazine.
For over 30 years, the nation's leading financial advisors, broker/dealers, and major media outlets have been using his research, funding strategies, training, and insight. Ron is highly regarded as an expert in the college funding field.