CONVERT PROSPECTS INTO CLIENTS USING THE SIMPLE EFC CALCULATOR
October 29, 2020
Blog
efc, calculator, tools, learning library
N/A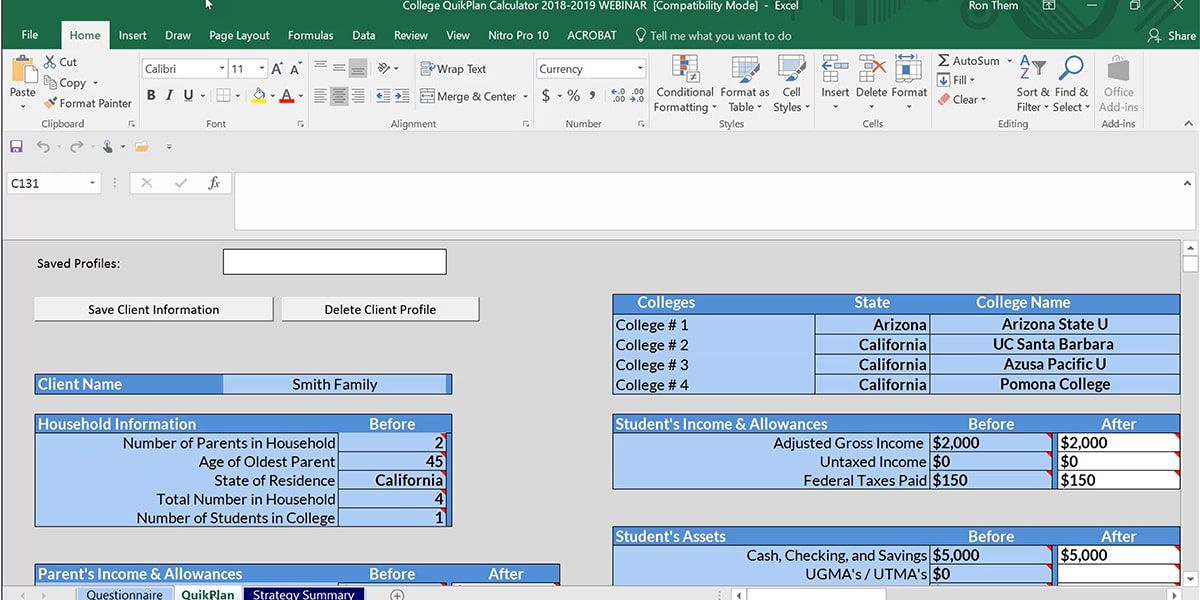 Well, school is back in session which means that I have a lot of advisors contacting me about helping their clients and prospective clients with EFC calculations in preparation for filling out the FAFSA.
While our members have access to Answers4College Blueprint software many CCFS members do not want to start a full case in the A4C Blueprint until their prospect says, "Can you help me lower my cost?".
To get your prospect on-board you can use our simple EFC calculator to create the initial "shock factor." Let's say the conversation with your prospect leads to college and college costs.
Client: My daughter plans to attend college in a couple of years and I started to look at costs. I have some money saved in a 529 plan, but not near enough to cover four years of college.
Advisor: What colleges are you looking at?
Client: She is looking at an in-state public school, and out-of-state public school, and two private colleges. But I don't have the $200,000 plus to cover the private colleges and the $100,000 for the in-state public school is going to be tight, especially since I also have another child that's about five years away from attending college too.
Advisor: Have you looked at financial aid?
Client: No, I just assume we make too much money to qualify for financial aid. My daughter is a good student, but she's nowhere near the top of her class.
Advisor: That may not be true, but let's do this. I have a very simple piece of software that can tell me whether your family can qualify for aid, or not, and it will take only about 20 minutes of questions to find out. Do you want to check it out?
It's just that simple! In 20 minutes you can get a quick analysis of the prospect's income and assets and not only discover whether they qualify for financial aid, but whether, or not, they are even worth the pursuit of becoming a client.
This simple EFC calculator is built in Microsoft Excel and all the data is current to the 2021-2022 school year. Advisors can use this to estimate the prospect's EFC and create a little one-page printout that can be used to further the college funding discussion.
I made a video explaining the calculator and how to use it. If you are an active CCFS® the video, Excel file, and the instructions are in our Learning Library and you can access them here.