CAN THE STUDENT LOAN SITUATION GET ANY WORSE?...YES IT CAN
June 15, 2018
Blog
student loans, education loans
Ron Them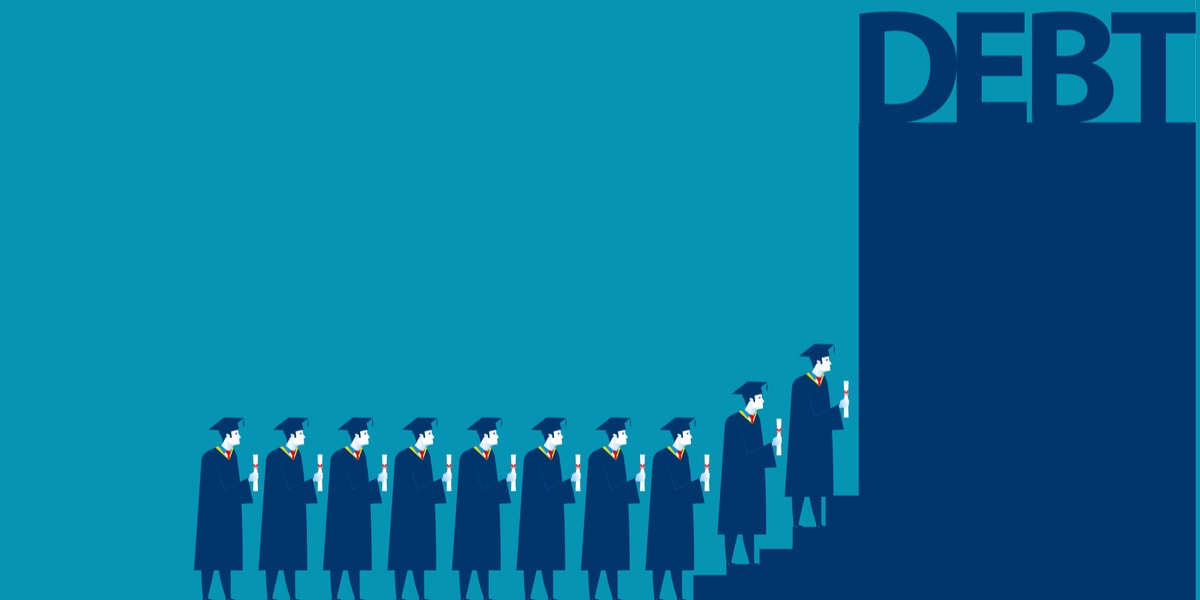 Can the student loan situation get any worse? For starters, student loan debt just hit $1.5 trillion. According to federalreserve.gov, we achieved this milestone during the first quarter of 2018. It appears that outstanding student debt now exceeds auto loan debt ($1.1 trillion) and credit card debt ($977 billion).
Today, Americans are more burdened by student loan debt than ever. About four in 10 people who've gone to college have taken out loans to pay for school. Here are some other surprising statistics on student loans.
STUDENT LOAN DEBT STATISTICS
$1.52 trillion - total amount of outstanding student loan debt
44.2 million - total number of student loan borrowers
$27,975 - average student loan debt per borrower
60% - percentage of graduates from the Class of 2016 with student debt
11.5% - average federal student loan default rate
$351 - average monthly student loan payment
$57,600 - average student loan debt per graduate student
STUDENT LOAN DEBT STATISTICS BY LOAN TYPE
According to StudentAid.Ed.Gov here is the breakdown of each type of student loan:
| | | |
| --- | --- | --- |
| Stafford Subsidized | $272.5 billion | 29.4 million borrowers |
| Stafford Unsubsidized | $449.6 billion | 27.9 million borrowers |
| Stafford combined | $722.2 billion | 32.6 million, unique recipients |
| Grad PLUS | $55.7 billion | 1.1 million borrowers |
| Parent PLUS | $81.5 billion | 3.4 million borrowers |
| Perkins | $7.9 billion | 2.6 million borrowers |
| Consolidation | $464.5 billion | 12.0 million borrowers |
CAN THE STUDENT LOAN CRISIS GET ANY WORSE?
The answer is YES, starting July 1st.
Every year, the federal government sets the annual percentage rates for student loans taken out in the following academic year. The rate is set based on the interest rates for ten-year Treasury notes, plus a fixed margin that varies based on the type of federal loan the student receives.
Unfortunately for student borrowers, interest rates on ten-year Treasury notes rose for the 2018-2019 academic year. As a result, rates for undergraduate loans will climb to 5.05% from the current 4.45%. Graduate loans will increase to 6.60% from 6.00%. PLUS loans change to 7.6% from 7%, which include an additional 4% plus origination fee.
These rate changes will take effect for loans disbursed between July 1, 2018, and June 30, 2019.
THERE'S ALSO A GENDER ISSUE
According to a report from the American Association of University Women, women hold nearly two-thirds of all student debt in the U.S. Part of the reason is that more women go to college. They represented 56 percent of students enrolled in the fall of 2016.
But that doesn't explain the whole gender gap. More women attend higher cost private colleges, and as a result, take out loans. The average woman owes $2,740 more than a man upon finishing a bachelor's degree, the report said.
The cost of attending college is becoming a growing burden for a large percentage of students. A Certified College Funding Specialist (CCFS®) can help ensure you do not become another statistic?


He is a former Chief Financial Officer of a Fortune 500 company and currently owns his own financial advisory company specializing in cash flow planning for business owners and executives. He developed the Cash Flow Recovery™ process that uses cash flow management principals to increase asset value and build wealth for business owners.

He is also the originator of several software calculators to help advisors and families make college affordable, including:

* College QuikPlan EFC Calculator
* "Find the Money" College Cash Flow Calculator
* College Debt Reduction Calculator

Ron has been quoted in U.S. News and World Report, Kiplinger's Personal Finance, Smart Money, Financial Advisor Magazine, Small Firm Profit Report, Practical Accountant, LIMRA's Market Facts, Senior Advisors Magazine, HR Magazine, BenefitNews.com, Employee Benefit News Magazine, ProducersWeb.com, Entrepreneur Magazine, Insurance Selling Magazine, CollegeNews.com, The Christian Voice, and Columbus CEO Magazine.
For over 30 years, the nation's leading financial advisors, broker/dealers, and major media outlets have been using his research, funding strategies, training, and insight. Ron is highly regarded as an expert in the college funding field.