COLLEGE SPENDING COMES UNDER CLOSER SCRUTINY
February 1, 2019
Blog
college costs
Delece Simth-Barrow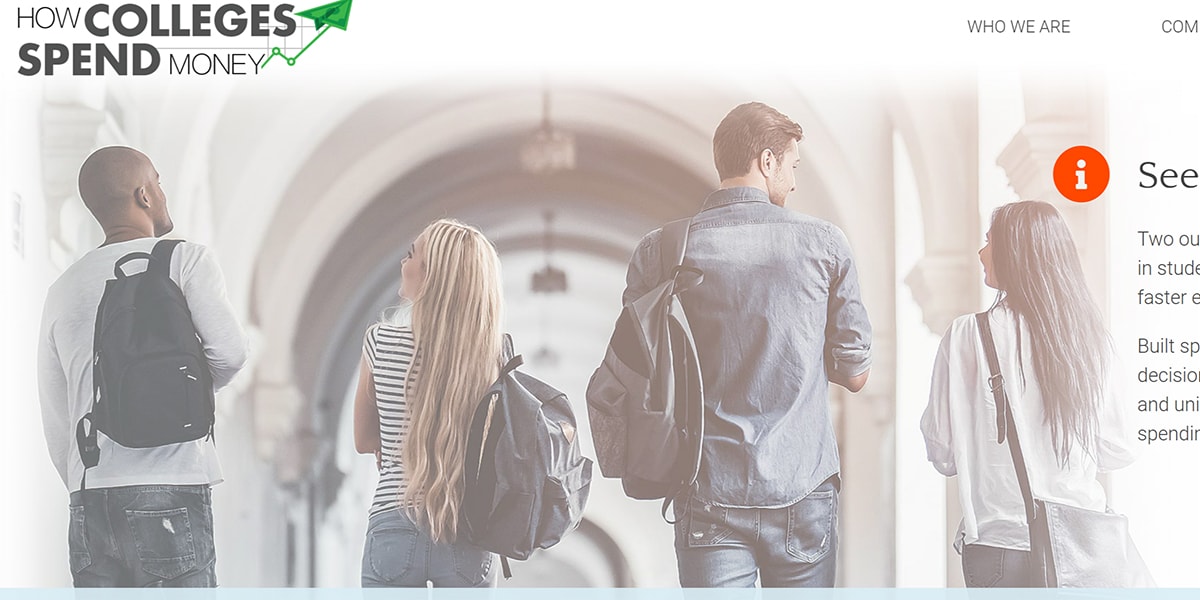 We know that college costs are increasing, but what's harder to find out is where the money is going.
The American Council of Trustees and Alumni on Wednesday launched a site that makes it easy to track how your hard-earned tuition dollars are spent: HowCollegesSpendMoney.com.
It's geared toward college trustees, lawmakers and policy wonks, who can use the site's data to lobby for or against government spending for higher education or to compare their institution to others. But parents and students can take advantage of it as well. It's a quick way to figure out not only how much a school costs but also how much of that cost is actually spent on classroom instruction.
ACTA introduced its new site at the National Press Club in Washington, D.C., with several current and former trustees in attendance. College trustees often control the purse strings for their schools, making them an important audience in the ongoing debate about how to reduce college expenses.
"They are the fiduciaries of their institutions. They are the ones who will make the decision about raising tuition," said Michael B. Poliakoff, president of American Council of Trustees and Alumni. "They're the ones who are going to pass the annual budget next year in which spending priorities will be implemented."
Once you look up a school on the site, you'll quickly see its cost for tuition and fees and the average amount of aid students receive, plus the administrative cost per student, instructional cost per student and even how tuition and fees measure up as a percentage of the median household income for the state where the school is located.
At the University of North Carolina at Greensboro, for example, after accounting for inflation, tuition nearly doubled between 2008 and 2016, but the instructional cost per student decreased. It was $12,353 in 2011 but $10,748 in 2016, according to How Colleges Spend Money.
The site uses data from the National Center for Education Statistics, which is a branch of the Department of Education. NCES has much of this information on its site, but in a format that isn't easy to use. Think clicking through dozens of web pages while deciphering what things like "sales and services of auxiliary enterprise" mean.
"This is a very succinct and clean way to send a message to those who are affected by the data and hopefully help empower them to make a better decision," James Toscano, president of Partners for College Affordability, said after the event concluded. Toscano was part of a panel discussion on college spending at the launch event. The other panelists were Diane Auer Jones, the principal deputy undersecretary at the Department of Education; Thomas McMillen, a former Maryland congressman and former member of the Board of Regents for the University of Maryland system; and Hal Daub, also a former Congressman, and a former member of the University of Nebraska Board of Regents.
The site isn't perfect. The data is for four-year schools, but many college students are in two-year programs. Plus, the data isn't as relevant as it could be because it examines spending and student outcomes between 2008 and 2016. The site also has the four-year graduation rate for schools, but many students take longer than that to get their degree. In fact, just 60 percent of full-time, first-year students seeking a bachelor's degree graduate in six years, according to NCES. The six-year graduation rate, which is typically how institutions measure degree completion, would probably be more helpful.
The site is a work in progress, ACTA says. But at first crack, it gives basic information to help educate anyone interested in college spending.
"They've made the interface a lot more consumer-friendly," said Toscano.
This story was produced by The Hechinger Report, a nonprofit, independent news organization focused on inequality and innovation in education. Photo: screengrab from www.howcollegesspendmoney.com 
Delece Smith-Barrow is a senior editor for higher education at The Hechinger Report. She was a 2017 Knight-Wallace Fellow at the University of Michigan.